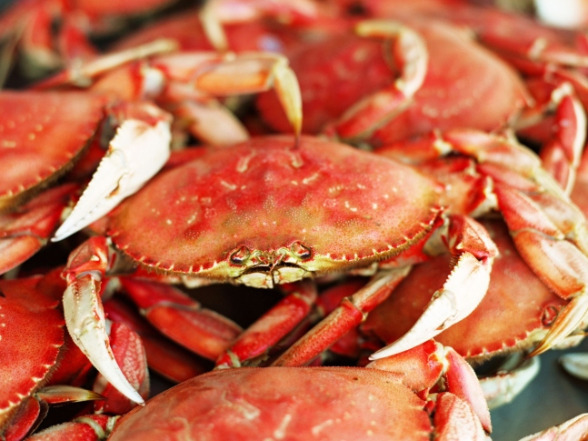 In our culture we love crabmeat, what we call "jueyes." In our family, my father's favorite rice mix was rice with crabmeat. Whether living in Spanish Harlem or Puerto Rico, my father would spend countless hours seeking a restaurant with the best recipe. However, none compared to my mother's arros con jueyes.
Let me state that, if desired, you can prepare the crabmeat from scratch; and it's best to use Caribbean crabs. Such a recipe is given in my cookbook Puerto Rican Cuisine in America p. 192-193 (Perseus Books – Running Press). But if you're press for time and don't want to bother with preparing the thing, you can use canned crabmeat. No one is going to fault you for it.
ARROZ CON JUEYES
(Rice with Crabmeat)
2 cups rice
1 tablespoon olive oil
2 ounces lean cured ham or salt pork, rinsed and diced
1 small green bell pepper, cored, seeded and chopped
1/2 cup finely chopped onions
1 clove garlic, peeled and finely chopped
3 sweet chili peppers (aji dulce), seeded and chopped (found in any Asian or Caribbean market)
1/2 cup tomato sauce
6 pimento stuffed Spanish olives
1 1/2 cups crabmeat
1 packet sasón accent (Goya makes a good one with coriander and annatto)
Salt and ground black pepper to taste
Water to cover rice
1. Wash rice under cold running water, and drain.
2. Heat oil in a heavy kettle or Dutch oven and brown ham over moderate heat.
3. Add bell pepper, onions, garlic and sweet chili peppers. Sauté for about 3 minutes.
4. Add tomato sauce, olives, and mix well.
5. Stir in rice, crabmeat and sasón accent.
6. Add water to cover contents in kettle by 1/4 to 1/2 inch above level of rice. Adjust salt and pepper to taste.
7. Bring to a boil. Cover tightly and simmer on low heat until water is absorbed and rice is tender ((about 20 minutes).
8. Uncover and simmer 5 minutes more if drier rice is preferred.
Yield: 6 servings.
Photo: courtesy of ifood.tv